QUALITY COMMITMENT
DELIVERING QUALITY - EVERY DAY
As we have evolved from serving the space industry to include other markets, we have always maintained the highest standards for reliability and quality across all areas such as aerospace, defense, satellite communications, and telecommunications.
QUALITY IS THE FOUNDATION OF ERZIA'S SUCCESS
From the very beginning of the company, while working on European Space Agency projects, we made it a defining principle to adhere to the highest quality standards. ERZIA's quality and product assurance systems are based on European Space Industry ECSS Standards. As such, ERZIA has implemented and tailored ECSS standards and an EN9100 system for several ESA contracts. ERZIA is UNE-EN ISO 9001:2015 certified by AENOR since June 2008 for the Design, Development, Manufacturing and Configuration Management of: Space Qualified Radio Frequency and Microwave Electronics, and of Communications Systems for Defense and Industrial Sectors. Commercialization of Satellite Communications Systems.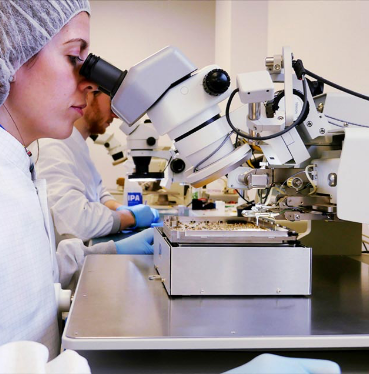 ISO 9001:2015 CERTIFIED
To validate our quality philosophy, we implemented ISO 9001:2015 and received certification in 2008. ISO 9001:2015 certification grants that ERZIA has a general Quality Management System in place including a series of processes, sub-processes, policies, and tools to provide for consistent performance and quality assurance.
It gives credence to ERZIA's process-oriented approach to documenting and continually improving the procedures required to achieve effective quality management throughout the company.
UNE:EN:9100 CERTIFIED
We implemented UNE:EN 9100:2018 standards and received certification in 2014.UNE:EN:9100 is the European equivalent to US AS9100 aerospace industry certification. It goes much deeper in specifying operational processes typical of this industry and establishes a series of indicators and methodologies that guarantee not only the quality of the manufactured products but also other critical measurements such as full traceability and control of the individual components during production and testing.
Adding EN9100 certification was a natural and required progression of ERZIA's commitment, given our strong presence as a preferred supplier to several aeronautic and military programs.