ELECTRONIC WARFARE
Electronic Warfare (EW) or Electromagnetic Warfare is a unique market that requires unique solutions for using the electromagnetic spectrum (EMS) to gather intelligence about enemy capabilities, or deny intended actions, by analyzing transmitted electronic (EM) signals. The spectrum dominance battle from air, land, and sea is highly driven by use of the latest communication, radar and other technologies available that can make a critical difference on the battlefield. The complex EW market requires both the highest performance and the highest frequencies. Variables like extremely wide bandwidths, high output power density, excellent band selectivity are crucial here, and very reliant upon the performance of the RF & Microwave hardware located on the front-end and back end of the electromagnetic surveillance and signal collection and processing equipment.

There are many ERZIA solutions available for use in Electronic Warfare applications including several High Power Amplifiers and Low Noise Amplifiers offering excellent performance over very wide bandwidths contributing to solving the need for near-instantaneous detection and state-of-the-art signal processing. ERZIA's Wideband High Power Amplifiers (WHPA) capabilities also make it ideal for a wide variety of military applications including military aircraft, stealth fighters, drones, bombers, and more. ERZIA has also earned a strong reputation for our accumulated experience in the design, qualification and manufacturing of integrated assemblies for Sigint, Elint, electronic protection (EP), electronic attack (EA), avoidance, targeting, and other tactical employment of forces.and more. Our technical expertise includes beamformers, filter banks, wideband converters, and complete front ends, among others.Typical platforms include air, ground and maritime systems with special focus on multi-platform designs.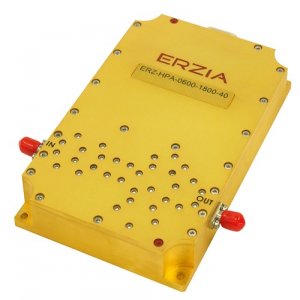 FEATURED PRODUCT
WIDEBAND POWER AMPLIFIER
The ERZ-HPA-0600-1800-40 is a WideBand Power Amplifier providing up to 40 dBm with a 10% duty cycle and a gain of 45 dB. The compact size and modularity makes it ideal for a wide range of applications.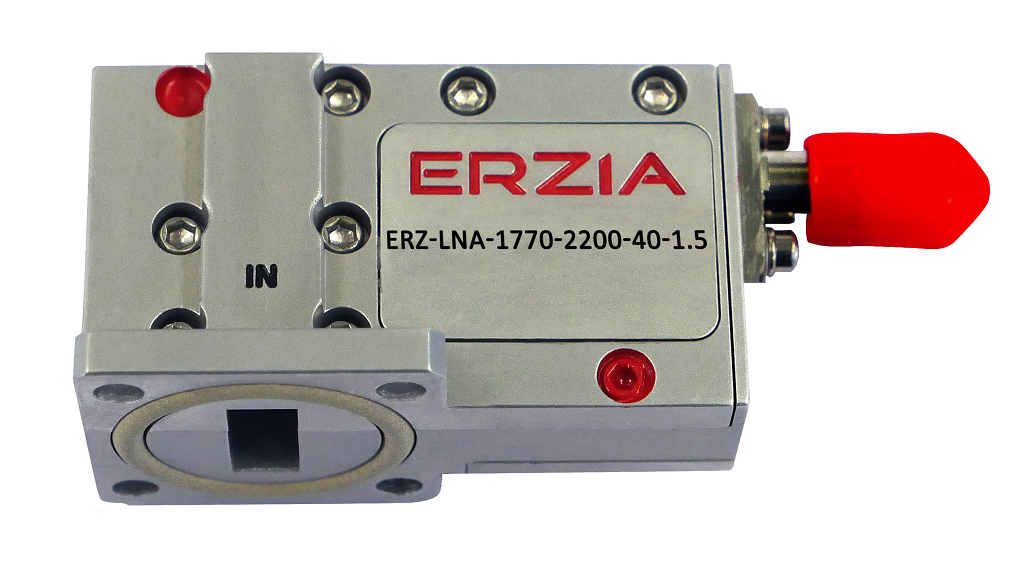 FEATURED PRODUCT
KA-BAND LNA FEATURES 1.3 DB NOISE FIGURE—IDEAL FOR MIL SATCOM
Model ERZ-LNA-1770-2200-40-1.5 low noise amplifier (LNA) designed for the unique requirements of military satellite communication (MIL SATCOM) and other airborne systems was recently announced. The operating bandwidth is from 17.7 GHz to 22 GHz spanning both Military and Civil Ku and Ka-band Satcom frequencies. It is a state-of-the-art LNA which delivers a typical noise figure of 1.3 dB at 25ºC, and a maximum noise figure of 1.4 dB at 25ºC over the entire operating band. This is an exceptional noise figure for an LNA at this high of a microwave frequency band and solves a key challenge often encountered by Satcom system engineers.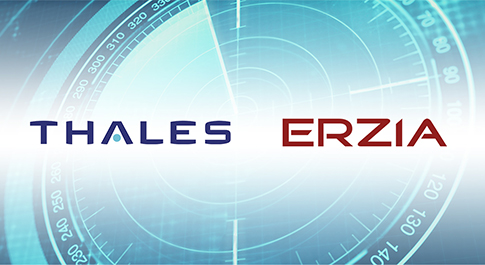 IN THE FIELD
ERZIA'S RF PRODUCTS SUPPORT THALES NEDERLAND TO IMPROVE THEIR SYSTEMS CAPABILITIES
ERZIA has proudly collaborated with Thales Nederland by supplying several RF modules such as High-Power Amplifiers (HPAs), Low Noise Amplifiers (LNAs), Mixers and Switches operating from S-band up to X-band. ERZIA has been a regular supplier to Thales Nederland for many years, offering replacements to obsolete components not available in the market but still needed and in use for Thales' systems.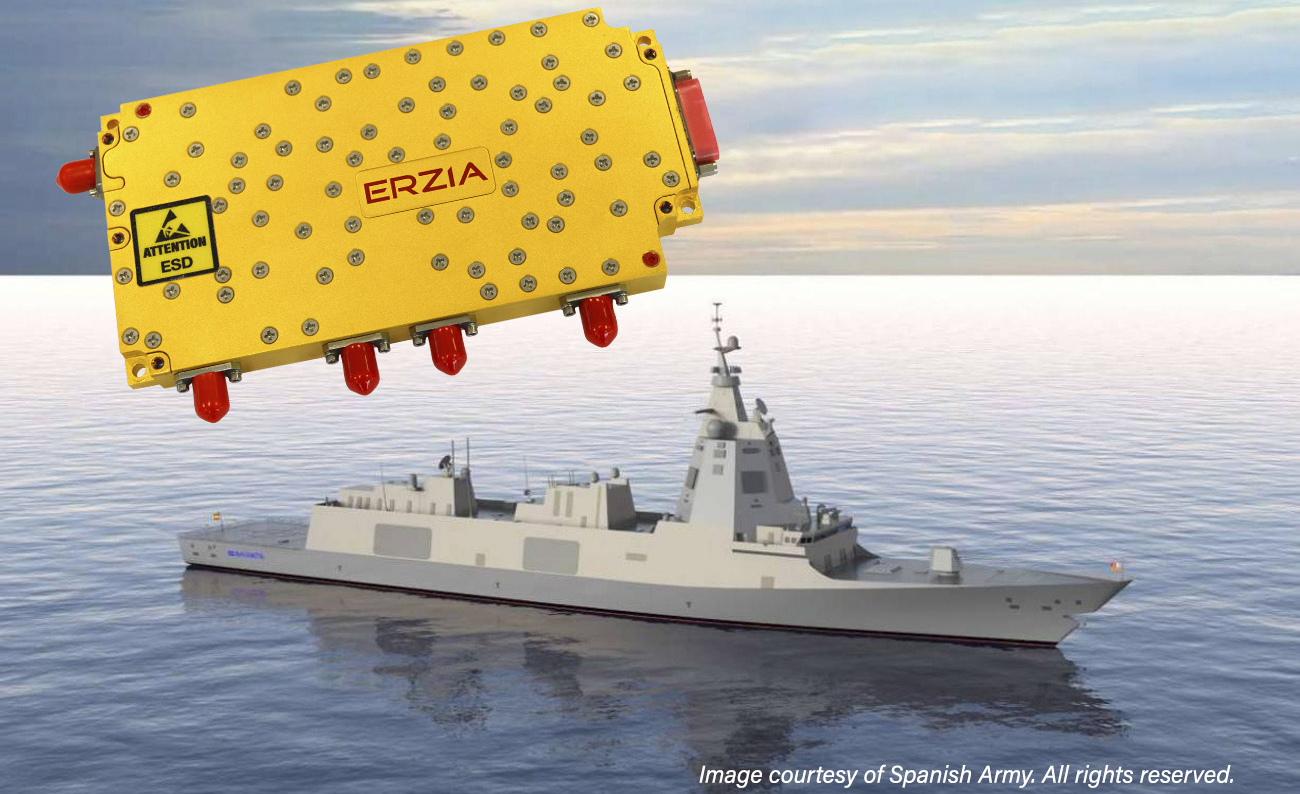 IN THE FIELD
ERZIA RECEIVES MULTI-YEAR ORDER FROM INDRA FOR INTEGRATED MICROWAVE ASSEMBLIES
ERZIA is set to deliver several integrated microwave assemblies to Indra, designed for electronic warfare purpose, under a multi-year contract between both companies. The different types of modules have been designed to comply with the specifications of the new F-110 frigate's EW electronic systems for the Spanish Navy. The electronic defense and intelligence systems (ELINT-SIGINT) aim to provide a strategic edge by gaining radiofrequency spectrum supremacy.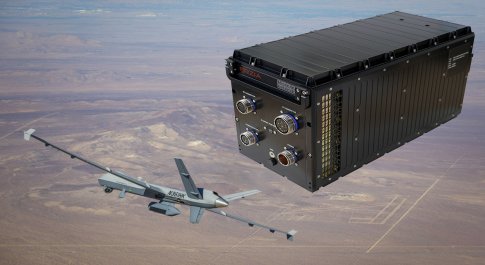 IN THE FIELD
RAYTHEON DEUTSCHLAND GMBH ADVANCED RADAR DETECTION SYSTEM USING ERZIA RF SUBSYSTEM
ERZIA has proudly collaborated with Raytheon Deutschland GmbH to develop and manufacture a unique RF subsystem, which is able to work with extremely large bandwidths, in several channels simultaneously, and able to select, convert, and filter the detected signals at an unprecedent speed. The custom RF unit from ERZIA is implemented in one of the main Line Replaceable Units (LRU) of the ARDS and interacts with the Antenna on the front end and directly with the Data Processing Unit (DPU) on the backend.