LABORATORY TEST INSTRUMENTS
We are extremely well versed with how radiofrequency and microwave laboratory testing works as we design and test all of our products to the highest standards. We understand that our products are part of our customer's highly complex systems and often in extreme conditions and critical production circumstances. ERZIA thoroughly tests our products to reduce risks and uncertainties to our customers by delivering high performance and highly reliable RF & Microwave components and subsystems, on time. If you are working on RF/microwave applications and keen to push the limits for performance and dependability, ERZIA can take you further.

A correct and accurate characterization of the Device Under Test (DUT) is critical for any company working in this industry and the demands of auxiliary components for the already performant test instruments is a common need. Wideband amplifiers, low noise drivers, signal boosters, emulation of transmitters…a good number of our amplifiers are being used in test laboratories around the world.

Key characteristics of our amplifiers like good thermal stability, repeatability, gain flatness, and performant electrical specifications are critical here. And we are also offering bench-top versions of our devices, customized for customer needs, which allows easier integration on the lab.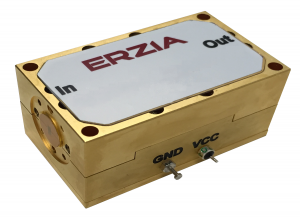 FEATURED PRODUCT
W BAND LOW NOISE AMPLIFIER
The ERZ-LNA-7500-11000-20-4 is a Low Noise Amplifier providing a gain of 20 dB with a noise figure below 4.5 dB. The compact size and modularity makes it ideal for a wide range of applications.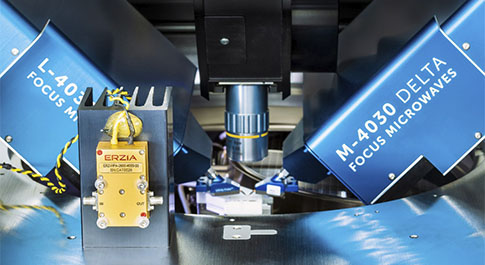 IN THE FIELD
ERZIA´S AMPLIFIERS SUPPORT FOCUS MICROWAVES TESTING SYSTEMS
ERZIA has earned an enviable reputation for providing components proven to survive under extreme environmental conditions. Therefore, the accuracy and reliability of ERZIA products match perfectly with Focus products and need to bring new solutions that address the ever-changing demands of the RF landscape. "We have collaborated with ERZIA for over six years now as they have consistently delivered reliable amplifiers with industry leading specifications. The level of support we have received through the years is unmatched and this is true from the sales team all the way to the R&D team, I would recommend ERZIA to all my customers", stated Vince Mallette, Executive Vice President of Focus Microwaves.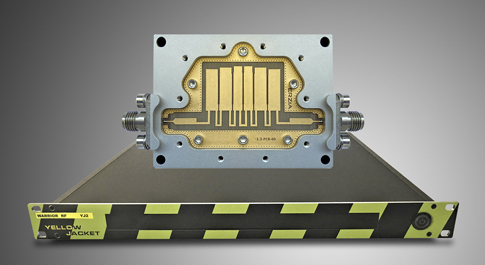 IN THE FIELD
Warrior RF's Synthesizers Gain an Upper Hand with ERZIA's Suspended Substrate Filters
RF Synthesizers are critical instruments in many RF/microwave systems. From test laboratories to the most advanced communication platforms, they're depended on to be stable and reliable frequency sources. As Software Defined Radio (SDR) and next-generation digital technologies are also evolving and enabling innovative approaches to generating RF signals with more complex RF modulations, the reliability of a high-performance synthesizer becomes even more critical.