Telecommunications
The ever-increasing demand for Telecommunications and Satcom data is driving the development of systems and technologies that can accommodate higher frequencies and provide more bandwidth. ERZIA's extensive offering of devices in the mmWave area is enabling ERZIA to be part of the 5G revolution. From mobile phones to internet access, there are several applications of mobile connectivity that rely on ERZIA microwave and RF radio frequency technology systems.

ERZIA products are being used in 5G trunking networks and several new applications. RF over fiber applications are taking advantage of ERZIA's extremely wide band high performance amplifiers (WHPAs). In addition, ERZIA plays an important role in the future of 5G networks providing products that improve capacity on trains, vessels, aircraft, and base stations around the globe.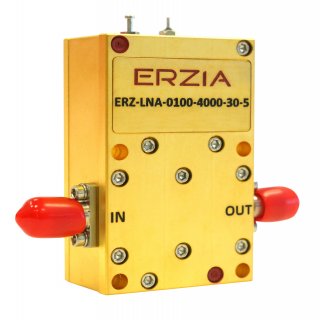 FEATURED PRODUCT
WIDEBAND LOW NOISE AMPLIFIER
The ERZ-LNA-0100-4000-30-5 is a Low Noise Amplifier providing a gain of 30 dB with a noise figure of 5 dB. The compact size and modularity makes it ideal for a wide range of applications.