Posted: Friday, December 18, 2020
Key Initiatives Set the Stage for Growth in 2021 and Beyond
ERZIA is pleased to announce that despite the difficulties faced during the year, it has been a successful year for the company. The company grew revenue and launched several key initiatives aimed at capitalizing on new markets, including the introduction of a wide range of new and innovative products and the strengthening of distribution channels.
ERZIA's suite of new products is a response to the growing demand from design engineers for wideband high-power amplifiers capable of withstanding the harshest environments while holding output power in place. The products represent a breakthrough design approach that serves a variety of multi-band uses.
Revenue Highlights
2020 was a record revenue year for ERZIA. In fact, by August 2020 we produced and delivered more amplifiers than during all of 2019! New amplifier models for Aerospace and Defense markets are leading our growth.
Product Highlights
ERZIA introduced more than 20 new, high-reliability solid state power amplifiers covering a wide range of the RF, microwave, and millimeter-wave frequency spectrums thereby increasing the availability of off-the-shelf products, reducing delivery time, and maintaining the same high-quality production associated with the ERZIA brand.
ERZIA has consolidated and strengthened its alliances with exclusive representatives in Germany (MRC GIGACOMP), Israel (DEH-RON Ltd.), Italy (CELTE SpA), and UK (ASPEN Electronics) in order to better serve customers of these key territories.
ERZIA also expanded its distribution network by successfully implementing a global franchise agreement with Richardson RFPD. The agreement covers ERZIA's commercial off-the-shelf products (COTS), including high-power/driver amplifier (HPA) modules and low noise amplifier (LNA) modules.
ERZIA has delivered RF products to customers in more than 20 countries around the world with implementations in terrestrial, naval, airborne and spaceborne systems.
Operational Highlights
ERZIA has re-assigned managing director responsibilities to be more aligned with anticipated growth. Mr. Luis García, CEO and founder of ERZIA, announced the appointments of Mr. David Díez and Mr. Francisco Canales as Managing Directors. Mr. Díez will focus on the Aerospace & Defense business and the RF & Microwave technology areas. Mr. Canales will concentrate his energy on Operations and Finance, as well as the VSAT/MSS businesses.
On Time Delivery (OTD) has been maintained over 95% despite the supply chain challenges of this year. On Quality Delivery (OQD) has been 99.5%.
As part of ERZIA's unwavering commitment to quality as a way of life, the company renewed its ISO9001 and EN9100 Quality Certifications. These certifications validate that the company has implemented, and maintained, a quality management system for the design, development, production, of radio frequency electronics and microwave in the aerospace sector and defense.
ERZIA acted early in adopting precautionary containment measures to protect staff during the COVID19 pandemic. As a consequence, the company and the production lines have not stopped working one single day of this year.
2020 Program Highlights
In December 2020, China's Chang'e-5 successfully landed on the moon with two ERZIA Amplifiers on board in a major step towards obtaining the youngest lunar samples so far collected and delivering them to Earth.
In March 2020, Stefano Vitale was awarded the 2020 Tycho Brahe Medal in recognition of his leadership of the Laser Interferometer Space Antenna (LISA) Pathfinder mission. The award, bestowed by The European Astronomical Society, acknowledges the mission's extraordinary success proving the technology required for the gravitational wave observatory planned to be launched in 2034. This recognition is particularly gratifying to the ERZIA team as ERZIA's RF amplifiers were on the path that feeds the Acousto Optic Modulator, making their performance critical to the success of the mission.
In January 2020, Erzia proudly concluded its contribution to the QV-Lift project which demonstrated how high data rates and service continuity can be achieved on Q/V band frequencies through High Throughput Satellite technologies. The increased use of satellite communication systems is leading to growing demand for larger bandwidth and increases in the transmission frequency. ERZIA contributed to the success of the project with high performance amplifiers that provided output power levels at higher frequencies with the ongoing development of GaN technology.
Commenting on the year, Mr Garcia stated, "At ERZIA we are always looking ahead. Last year, we put several important initiatives in motion enabling us to make great strides in 2020. I am pleased to say we exceeded our goals despite the unforeseen challenges the year brought to us all.
I am very optimistic about our future. The current lineup of ERZIA products includes some of the most robust high performance radio frequency and microwave systems available. I believe we are well-positioned for the year ahead and I want to extend my thanks to our customers, our team, and our suppliers for making 2020 a tremendous success."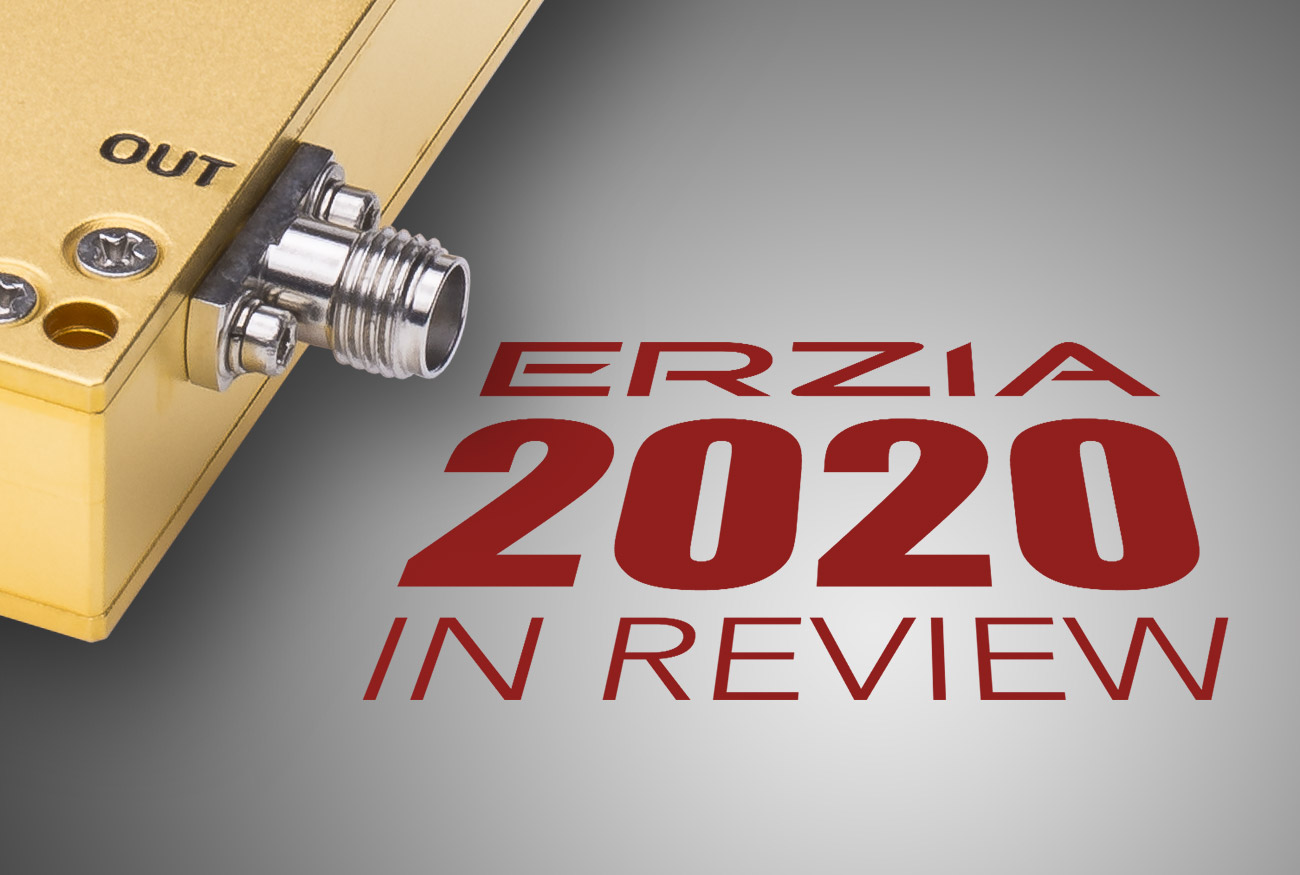 Share